Manufacturing and Technology Expo 2022: Manufacturing Excellence Through People-Centric Approaches (Slideshow)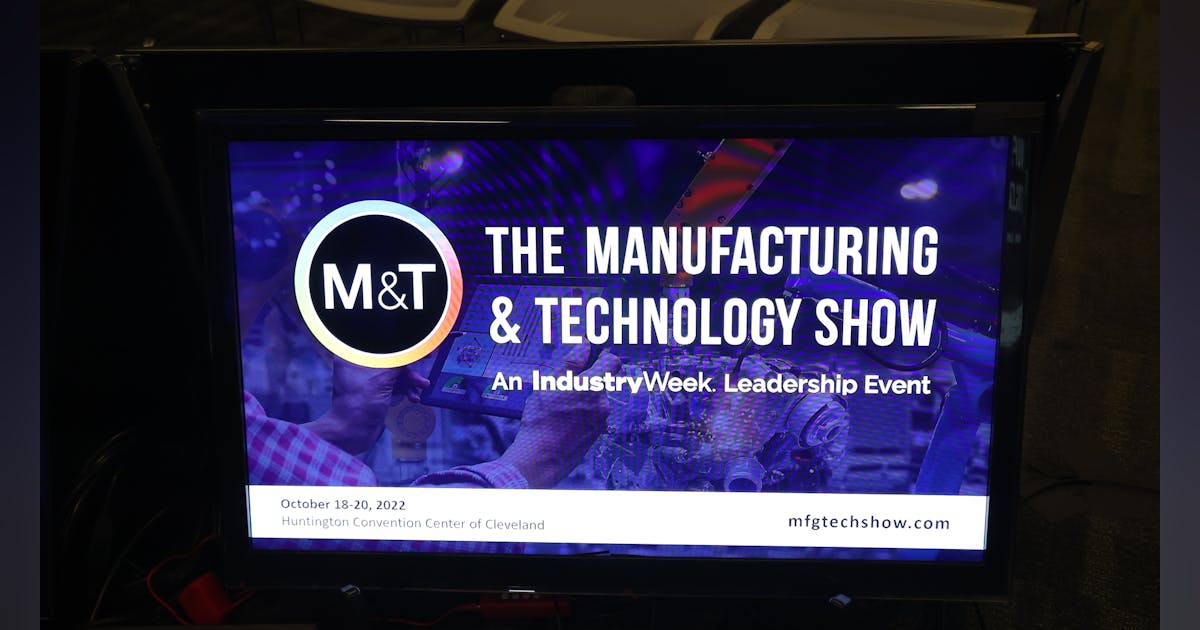 Industry 4.0, additive manufacturing, predictive maintenance, state-of-the-art MES software – the technology underlying massive performance gains in manufacturing has changed and continues to change the industry. However, some of the most thoughtful minds in the field argue that these high-tech tools are useless if workers don't agree with the change.
to october Manufacturing and Technology Show 2022: A industry week leadership event, manufacturing experts from Intel, Ford, Michelin, Ericsson, Johnson & Johnson and many other global companies shared their insights on what works on the shop floor. A common theme: Technology is good, but getting people to do it right is key to manufacturing success.
As Ron Wilson, keynote speaker on day two of the show and senior vice president of global operations at Moen's parent company, Fortune Brands Water Innovations, technology and supply chain initiatives procurement didn't get his business through the pandemic – his employees did.
"We wanted them to be able to come to work knowing that where they came to work cared about their health, cared about their safety," Wilson said. "We have to follow the chops."
Industry Week of Learning
industry week will air several segments during its industry week of the Learning Webinar Series from December 5-8. To watch these presentations and several new webinars (or to watch on-demand versions of the sessions if you're reading this after December 8), go to https://endeavor.swoogo.com/industryweekoflearning-2022.
Factory visits
Talking about manufacturing excellence is great, but seeing high-tech production in action is more exciting. On the final day of the show, Charter Steel, General Motors and Vitamix opened their doors to approximately 100 show attendees, giving them the chance to see automation, continuous improvement and safety technologies firsthand.
Executive Summit
One day before the main show, industry week, EY and JobsOhio brought together a group of senior executives and HR professionals for the Workplace Transformation Executive Roundtable. Held at the Nottingham-Spirk Innovation Center in Cleveland, this small, focused event drew executives from Timken, Lincoln Electric, Sherwin Williams, Lubrizol and several other manufacturers to discuss the talent pool, arguably the biggest long-term challenge. term facing the industry.
Highlights included two presentations:
"Building the Manufacturing Sector of the Future through Adaptive Skills" with Margaret Carlson and Steve Fuller of EY previewed the research that was presented with the Manufacturing Institute. The study details the extent of the talent shortage problem and what companies can do to tap into their current workforce to meet future needs.
The Manufacturing Millennial engineer Jake Hall discussed how young people view manufacturing differently than older generations, how to reach those young potential employees, and why your factory should be smarter than a toilet (an example comparing information sharing in airport bathrooms to the lack of sharing on factory floors).
Following these formal presentations, the leaders broke into small groups to discuss how to identify and develop talent and how companies can rebuild the past social pact between employees and employers that promised once had the opportunity to grow and earn a good living without changing jobs every few years.
Some takeaways from the leaders. Companies must:
Develop personalized talent development plans for each employee or job type
Conduct regular retention interviews to ensure they are keeping current employees happy and supported
Focus on visual learning, videos, and other interactive formats when training young digital native workers