Phoenix Productions presents "School of Rock" this weekend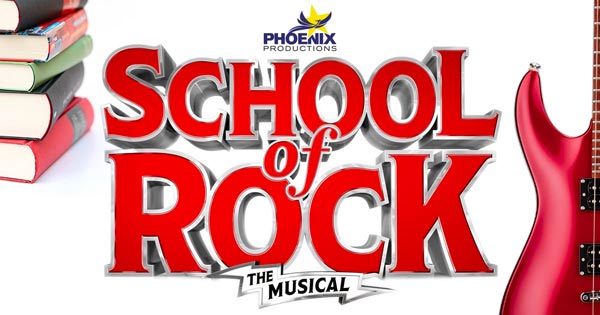 NEW | FEATURES | PREVIEWS | EVENTS
originally published: 07/22/2022
(RED BANK, NJ) — Rock has no reason, rock has no rhyme… You better get me to school on time! Phoenix Productionsthe community theater company at the Count Basie Center for the Arts, presents its summer production of School of Rock – The Musical – this weekend from July 22 to 24.
Based on the 2003 film of the same name, school of rock follows Dewey Finn, a failed aspiring rock star who decides to earn some extra money by posing as a substitute teacher at a prestigious prep school. There, he transforms a class of straight students into a mind-blowing rock band that rips the guitar, slams the bass. But can he get them to the Battle of the Gangs without their parents and the school principal finding out? With music by Andrew Lloyd Webber, this musical features 14 new songs plus songs from the movie.
The performances take place on Friday July 22 at 8:00 p.m.; Saturday July 23 at 3:00 p.m. and 8:00 p.m.; and Sunday, July 24 at 3:00 p.m. The tickets are available for purchase on line. The Count Basie Center for the Arts is located at 99 Monmouth Street in Red Bank, New Jersey.
school of rock features a book by Julian Fellowes; lyrics by Glenn Slater; and new music by Andrew Lloyd Webber. It is based on the Paramount movie by Mike White. school of rock made its Broadway debut in 2015 and was nominated for four Tony Awards, including Best Musical.
school of rock offers actors of all types and ages the opportunity to perform on the historic Count Basie Center stage, the Basie Center has been the home of Phoenix Productions for more than three decades, with over 100 musical productions having performed there since 1990. Earlier this year, Phoenix Productions and the Basie Center announced plans to merge, bringing together two of the state's most dynamic arts and entertainment nonprofits to survive, grow and create in a landscape post-pandemic performing arts.
Advertise with New Jersey Stage for $50-$100 per month, click here for more info
---
Together, Phoenix Productions and the Count Basie Center share a vision of bringing together a diverse mix of talented artists who are committed to doing their best in an inclusive arena.
The cast includes: Dan Keysey (Dewey), Michelle Elaine Lucey (Rosalie), Jayson Dixon (Ned) and Angelina Francese (Patty).
Students: Adriella Goncalves (Summer), Nick Buchanan (Zack), Kyla Jordan Puryear (Tomika), Stefanie Worton (Katie), Jason Katz (Lawrence), Anthony Shields (Freddy), Demsond Elyseev (Billy), Owen Beland, Sierra Friedman, Eliana June Gamble, Mateo Jurgens, Tommy Kortenhaus, Sophia LeBlanc, Lucia Elena Rossi, Bella Yang and Leelee Yang.
The adults: Kyle Anderson, Rod Belle, SuAnn Chen, Rebecca Conn, Lauren Friedman, Lex Friedman, Kimberly Gelfand, Kyle Kennedy, Connor Naspo, Marietta Racancoj, Morgan Rossi and Matthew Tobio.
The production team includes: Corey Rubel (Director and Lighting Designer), Nicole Smith Levay (Choreographer), Kara Leigh (Music Director), Kyle Santopadre (Technical Director), Andrew Robinson (Scenic Designer), Justin Christopher Odon (Sound Designer and Properties), Joanne Penrose ( costume designer), Alyssa Blonski (production manager) and James Grausam (art director of Phoenix Productions).
For more than 30 years, Phoenix Productions is on a mission to provide quality theatrical experiences on both sides of the ramp. Since their first production in 1988, they have produced over 100 main stage shows providing onstage and backstage opportunities to thousands of talented volunteers.
The Count Basie Arts Center is New Jersey's premier cultural arts center, dedicated to promoting powerful, inclusive artistic experiences and the creative exchange of ideas. Basie's mission is to inspire, educate and entertain through its distinct and engaging cultural and artistic offerings that encompass and amplify the region's diversity. As a non-profit organization, La Basie is committed to enriching the quality of life in the community by generating opportunities for participation in the arts, partnering with schools, collaborating with other mission-driven organizations and boosting regional economic prosperity.
school of rock is presented in accordance with Concord Theaters on behalf of The Really Useful Group.