Secrets unfold and misadventures unfold in local productions 'The Light' and 'The Bomb-itty of Errors'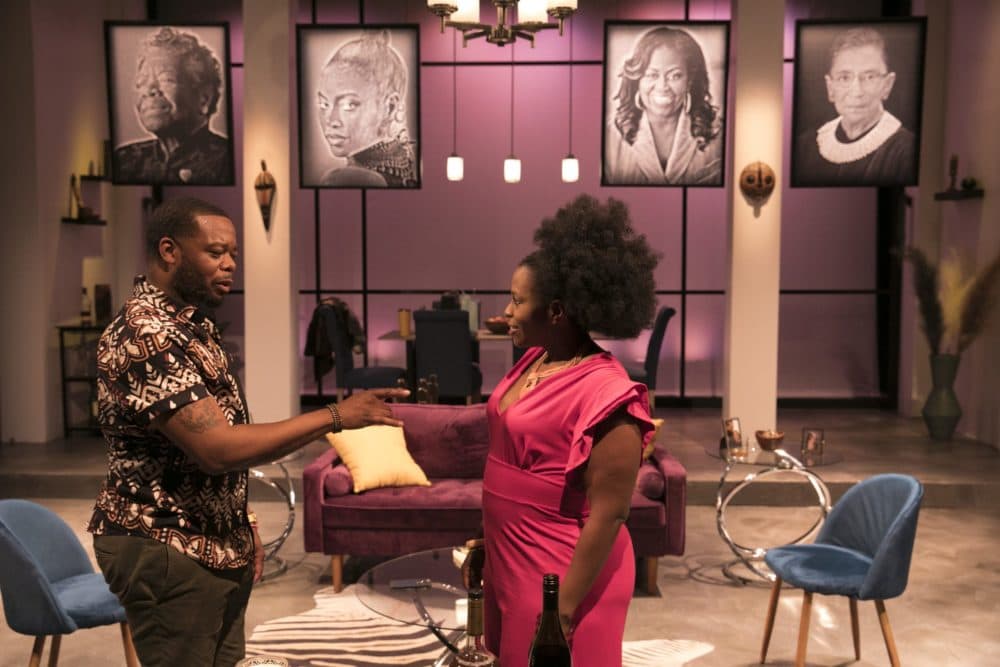 Secrets are uncovered and misunderstandings lead to mishaps in two local theater productions. In Loy A. Webb's"The light"At The Lyric Stage Company (until June 26), couple Genesis and Rashad's magical, love-filled evening turns sour when Genesis illuminates a painful moment from the past, and in The Actors' Shakespeare Project's"The error bomb', a hip-hop-centric adaptation of Shakespeare's 'Comedy of Errors' (also through June 26), one set of twins are mistaken for another and comedy and trouble ensue.
In the Lyric Stage production, directed by Jacqui Parker, portraits of the late poet Maya Angelou, singer Beyoncé, former first lady Michelle Obama and the late Justice Ruth Bader Ginsburg hang in the well-decorated apartment of Genesis (Yewande Odetoyinbo). As she comes home from work, her boyfriend Rashad (Dominic Carter), a firefighter and former high school football star, cleans up the place. He plans to propose and has planned a romantic evening that includes a concert.
The way Carter's Rashad and Odetoyinbo's Genesis converse in this 70-minute emotional one-piece punch feels natural, beautiful, and fun. The black couple flirts, skilfully and lovingly pokes fun at each other. Things take a rough turn when Genesis says yes to Rashad's question and prepares for their night out. They disagree on how they should spend the night, and at first Genesis may seem unreasonable. But once his position is leaked, their bond is tested. Rashad doesn't immediately understand Genesis' point of view, and their fight – which puts male privilege, sexual assault, systemic oppression, etc. on the table. – threatens their relationship. If they don't show empathy and forgive each other, it could spell the end of their romance. The story – with beautiful set design by Baron E. Pugh – is welcome, with great performances from Carter and Odetoyinbo. There aren't too many love stories centered around a black couple, and the actors' natural abilities make their romance believable and their pain palpable.
In "The Bomb-itty of Errors", by Jordan Allen-Dutton, Jason Catalano, Gregory J. Qaiyum and Erick Weiner, there is another set of problems. Two sets of twins, Dromio of Syracuse, Dromio of Ephesus, Antipholus of Ephesus, and Antipholus of Syracuse, all lead very different lives. However, a few cases of mistaken identity turn their world upside down.
Directed by Christopher V. Edwards, the show, long delayed due to COVID-19, is a "love letter to hip-hop and an ode to Shakespeare," he wrote in his director's note. Edwards came of age when hip-hop was born and has been looking to stage the show for some time. The plot of the piece is remixed with the complex language of the bard and the poetry of the musical genre – rap lovers will notice all the cultural references.
DJ WhySham (Shamara Rhodes), perched above the floor designed by a rainbow pinwheel during the show, sets the mood with music. The colorful set – also by Pugh – features corrugated metal walls with "Bomb-itty" spelled out in yellow and red graffiti, a purple door with "OPP" painted on one and "411" on the other.
For those unfamiliar with this first account by Shakespeare, a prologue sets up the story on the playwrights website. An MC and his wife have quadruplets, two sets of identical twins. The larger pair is called Antipholus and the smaller pair is called Dromio. The couple are forced to give up their children for adoption and the twins are separated. One set of twins come of age in the city of Ephesus and the other in Syracuse.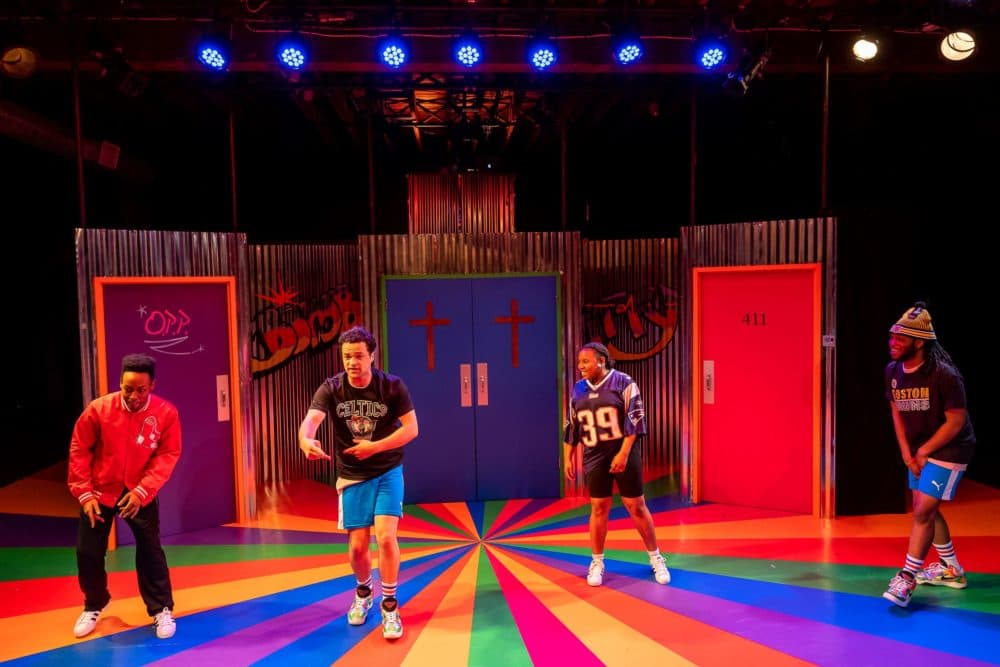 At the start of the play, Antipholus and Dromio of Syracuse (Anderson Stinson III and Malik Mitchell, respectively), who are in their twenties and poor, show up in Ephesus, where the other twins, who are wealthy, live. (Henry Morehouse plays Dromio of Ephesus and Victoria Omoregie portrays Antipholus of Ephesus.) As soon as all the siblings are in one place, marriage issues, disagreements over money and more take center stage. in this funny but chaotic play.
Stinson, who recently starred in "Black Super Hero Magic Mama," gives another solid performance here. He's charismatic and cool in the role, and his energy ramps up when his co-stars Mitchell, Omoregie, and Morehouse share scenes with him. All of the cast members play multiple characters, but Mitchell — who appeared on SpeakEasy's "Once on this Island" — is quite the extraordinary performer. When it comes to his flow, Mitchell has a dynamic delivery. But his moment of glory is when he takes the stage as the Rastafarian herbalist, Dr. Pinch. Dressed in a multi-layered cape, Mitchell brings all the reggae energy.
Morehouse, who portrays Dromio of Ephesus, is more engaging than Luciana, Adriana's sister who is married to Antipholus (well, one of them anyway). Luciana is well-meaning but stupid. While Morehouse may not come across as a super sick MC per se, his diction is the clearest. There was no difficulty understanding his lines, and his improvisational skills are fantastic. On several occasions, Morehouse's antics have caused roars of laughter among onlookers.
Omoregie's finest moment depicts the delivery guy who wants to rap but doesn't know how to rhyme.
As the show unfolds, there's a lot more going on between the two. New characters are introduced and true identities are uncovered in this fast-paced show. Unlike many Shakespearian plays, there's no deep moral, but the show's great rhyme, skillful casting, and hilarity make for a fun production.
---
"The light» presented by The Lyric Stage Company and «The error bombby Actors' Shakespeare Project through June 26.