Two Trees technology offers endless possibilities for DIY creations, with the launch of the new TS2 laser engraver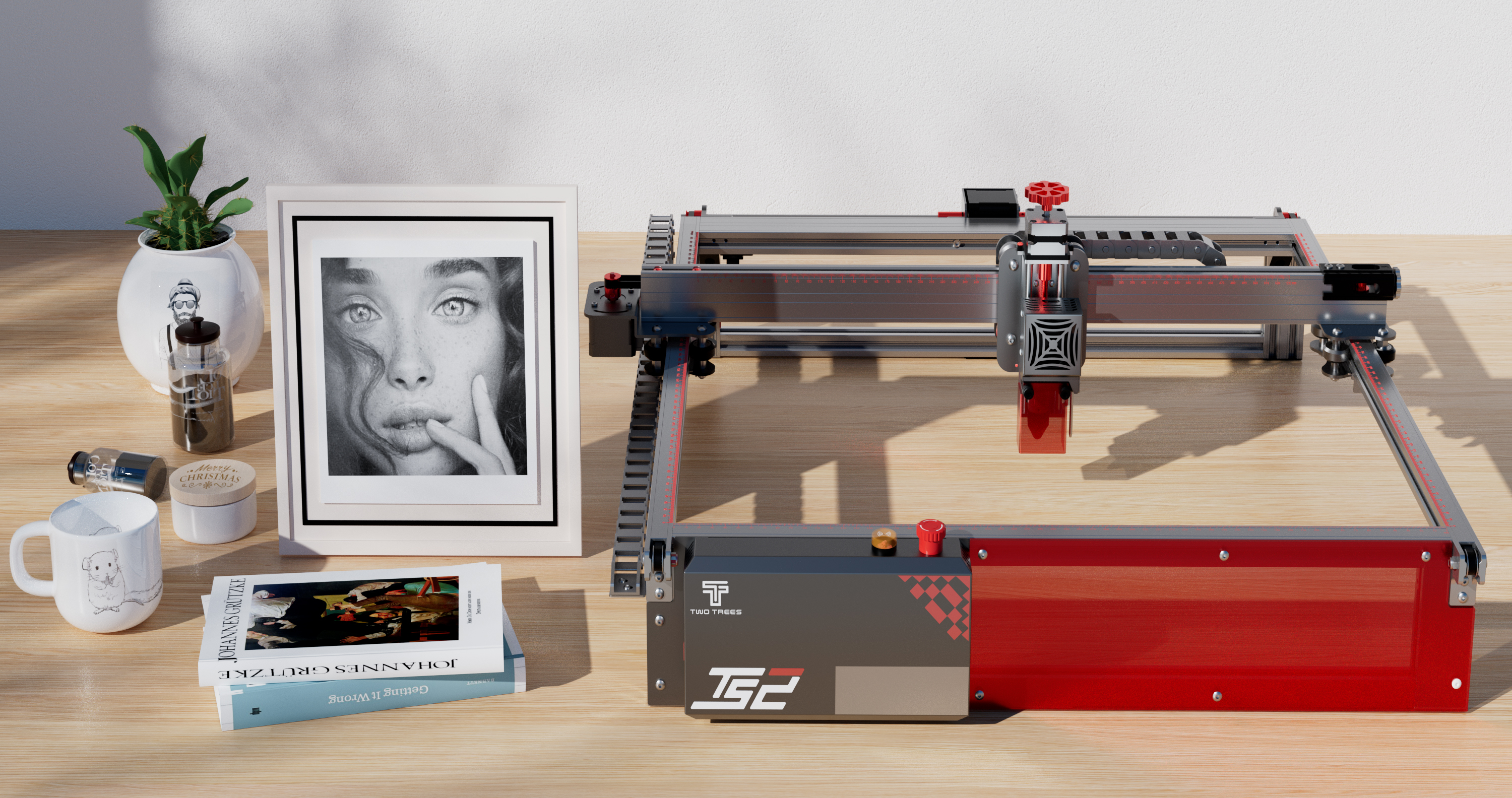 The new desktop laser engraving machine comes with a variety of amazing features, intuitively designed to present users with an efficient tool capable of turning their ideas into reality.
June 17, 2022 – Leading manufacturer of 3D printers and FDM laser engravers, Two Trees Technology Co. Ltd is delighted to announce the launch of its brand new TS2 laser engraver.
Designed to allow endless possibilities for DIY creations, the new professional laser engraver incorporates a variety of impressive new features, including a flame detector, fire alarm and protective cover for maximum safety. The laser head also has an automatic shut-off function which protects against fire accidents, by immediately turning off the device once it is tilted beyond 15° or when the laser head remains in the same place for longer. 10 seconds without moving.
With a super powerful 10W laser head that supports high travel speed with strong stability, the TS2 laser engraver is powerful enough to easily cut 8mm plywood and has advanced LD+FAC+C-lens technology which allows the laser to achieve up to 0.01 mm engraving. precision, for cleaner, finer, smoother and deeper cuts.
To protect the laser and avoid collisions, the TS2 laser engraver has been designed with a limit switch function that automatically triggers once the engraving stroke is at its maximum. The laser head also comes with a built-in air assist kit to improve the engraving and cutting effect. While the external air pump – serving as an upgraded additional accessory, will help users achieve the best cutting and engraving effect.
Armed with an integrated ESP32-DOWD-V3 chip, 32-bit LX6 microprocessor, high-speed dicing, LaserGRBL and LightBurn software support, the new desktop laser engraver easily takes support offline operation, as well as WIFI, TF card and USB connection.
A double-drag chain structure for the X-axis and Y-axis regulates and protects the cables to ensure good cable harness safety management. While the screen-only serial port provides more possibilities and extensibility for modifying the machine by yourself.
In addition to its extended interface module, the new laser also features a high-stability design with 60% pre-assembled parts for easy installation. To ensure easy measuring and positioning of the engraved object, the TS2 laser engraver has silk-screened graduations and comes with an emergency stop button to abruptly stop operations.
Anyone interested in learning more about the new device can contact Two Trees Technology via the contact details below.

About Two Trees Technology
Two Trees Technology is a Chinese research and manufacturing company specializing in 3D printing and laser engraving technology. Thanks to the quality of its service, the company has active customers in more than 97 countries, with free shipping currently available in 27 of these countries.
Media Contact
Company Name: Shenzhen TwoTrees Technology Co.,Ltd
Contact person: Nicholas
E-mail: Send an email
Address:Room 402, Juguang Business Park, Building 11, No. 9, Qilin Road, Bantian Street, Longgang District
Town: Shenzhen
Country: China
Website: https://twotrees3d.com/